Happy 2014!!!
Last year, in January I wrote a post about dandelions,
things-to-do-with-dandelions
well it was actually a round up of links to recipes and ideas of how to use dandelions. It has been my most popular post ever!! I was and still am surprised that dandelions are so popular or have become more so of late. I see them popping up everywhere !
When I first started becoming interested in wildcrafting/foraging I was really chuffed and excited every time I recognized a new wild plant, especially if it had medicinal properties and it tasted good. I have always admired
Hippocrates
frequently quoted words
"Let food be thy medicine and medicine be thy food"
.
Ok, so every one knows what a dandelion looks like, don't they? Can you tell the difference between a dandelion, catsear or hawksbeard? I'm just beginning to easily spot the differences now.
The only problem that I had was that I lacked ideas for how to use my wild plant discoveries and sometimes they do need creativity to make them taste good. Italians have a rich, inspirational history of incorporating wild foods into their diet, but there aren't many wild food recipe books. Italian mammas always seek to find the best, freshest, local produce that they can afford and friends or family members often make gifts of mushrooms, home-grown produce or freshly picked fruit. Food is so much more important here than it was in the UK when I lived there, although encouraged by popular chefs like Jamie Oliver, perhaps that is changing now.
Wild food is becoming more main stream, there are many more ideas, books, recipes, websites etc than there were two years ago. I think it's easier to find interesting ways of using wild plants now. My round-up of dandelion links was a way to put my favourite ideas in one place. Pinterest is a really great resource for this reason, you can save a lot of time looking for inspiration there (if you don't get distracted)
pinterest.com/wildcraftvita
.
Anyway, I'm pleased to announce that my dandelion post has been nominated by a group of bloggers who organize a blog hop called "wildcrafting wednesday", a place to share and find ideas for using herbs, homesteading, healthy recipes etc.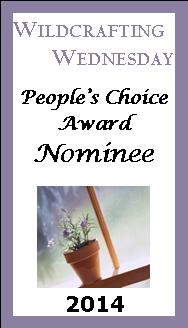 If I have contributed, in even a small way, to improving the status of this amazing but often overlooked and badly treated weed I admit that I am rather pleased.
If you like dandelions and are so inclined you can click on the above button and vote for my dandelion post, you may also find something else interesting on the list, or at the host blogs linked below. There are 10 nominated posts from different bloggers. You can vote at any or all of the following blogs:
http://mindbodyandsoleonline.com
http://www.woodwifesjournal.com
The Entwife's Journal-http://visionherbs.tumblr.com
http://bellavistafarm.wordpress.com
http://www.blessedinhomemaking.com
http://www.herbanmomma.com